Designing Hybrid Learning Environments
Learning Anywhere, Anytime
The 2020 COVID-19 pandemic caused educators to be thrown into a situation where they had to attempt to recreate academically rigorous instruction and the social classroom structure through home-based learning. When schools reopen, they may need to introduce staggered schedules. The "classroom" needs to be designed to function effectively and flexibly in physical spaces or remote spaces. What if we could have the best of both worlds in one model? That's our Hybrid Learning Environment!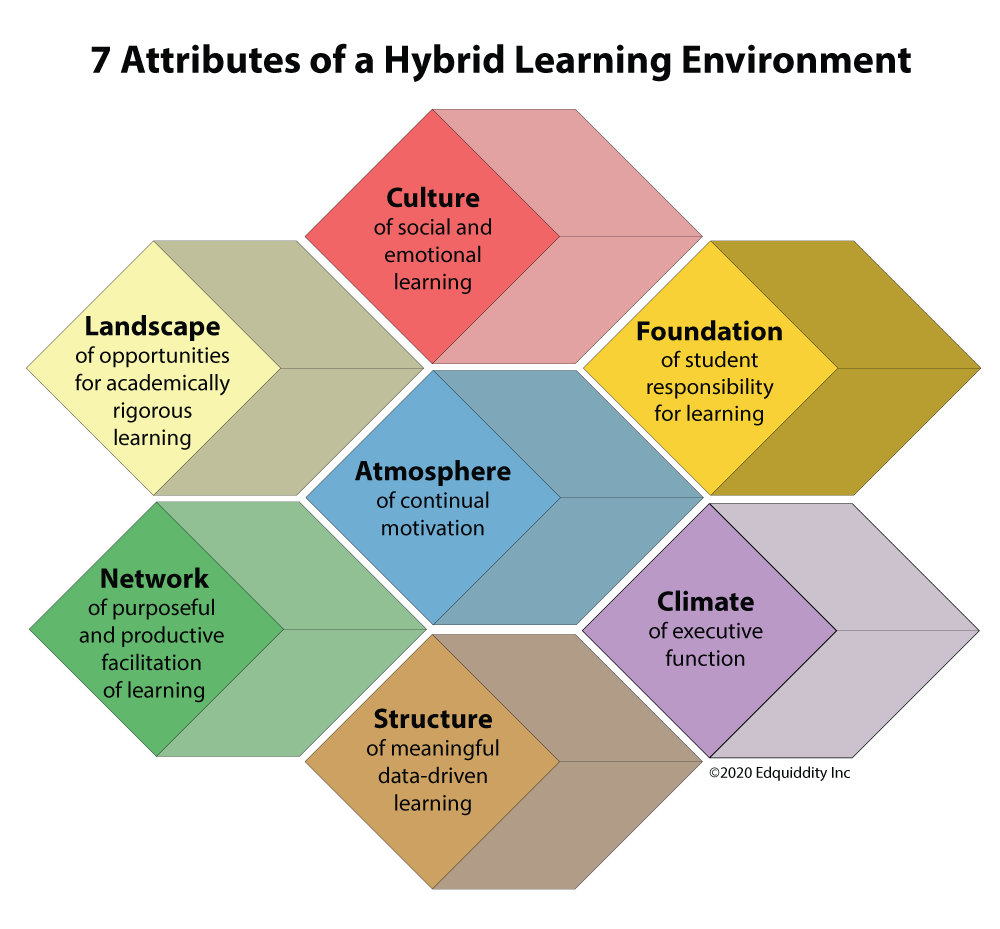 ---
Virtual Learning Sessions
EdQuiddity Inc and Team IDE are happy to offer the following virtual learning sessions focused on Remote Learning!
Designing Differentiated Digital Activity Lists
Build student responsibility for learning; have students determine "how" they will learn content. Choices take into account cognitive levels and learning styles (think UDL!), with links to online activities. Explore this remote-learning tool and learn about the nuances of design.
Designing Differentiated "9-Box Grids"
There are many pathways to mastery! A Learning Styles & Readiness Grid ("9-Box Grid") offers deliberately-selected choices available on the Web based on cognitive levels and learning styles. Explore this remote-learning tool and learn about the nuances of design.
Maintaining Academic Rigor in Remote Learning
While packets, videos, and websites can get you through a week or two, students deserve high impact instruction and academically rigorous tasks. Explore strategies and resources for ensuring students are engaging in higher-order thinking and application of content.
A Day in the Life of Using [CANVAS/Google Classroom/OneNote/Schoology]
Whatever your digital learning platform, it's easy to grasp the essentials of the day-to-day use. Learn the basics and the nuances. View the experience through the eyes of your students. Gain tips and insights for leveraging other digital tools within a learning platform.
Hyperlinked Rubrics
Do you use rubrics with your students to lay out clearly articulated expectations? Convert to remote learning by hyperlinking rubric criteria to learning activities available on the Web. This allows students to use the rubric to drive their learning activities.
Building Executive Function at Home
How many cause-and-effect chains can you find in events occurring at home, on television, in a book, etc. Categorization? Generating possible solutions? Reflecting on goals? Design learning activities that build executive function while addressing curricular content at home.
Building Social and Emotional Learning at Home
How can you build the competencies of SEL into remote learning activities? Reflections, journals, mindfulness activities, targeted assignments, structures, and more! Design remote learning activities that help students build social and emotional learning competencies at home.
Global ThinkTank
Engage your students in thinking globally about the pandemic, or any other global issue. Timelines, cause-and-effect chains, statistics, analysis of effects, possible solutions. Post research, ideas, graphs, and solutions on a group document or site. Have students engage with one another's information and synthesize. Develop your own Global ThinkTank.
The Virtual Efficacy Notebook
How will you move your students beyond just completing assignments to check off a list … to being thoughtful about what they are learning? Develop an online journal for students to summarize what they learned from an assignment, reflect on how it relates to other content, and consider how it will help them in the real-world. Learn to develop the Virtual Efficacy Notebook!