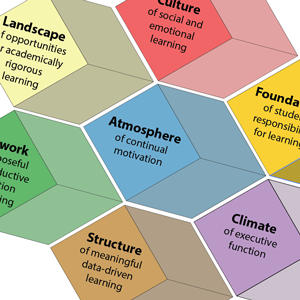 Description
The 2020 COVID-19 pandemic threw educators into a situation in which they had to attempt to recreate academically rigorous instruction and the social classroom structure through home-based learning. When schools reopen, they may need to introduce staggered schedules or other structures that may alter the routine of the physical school day. The "classroom" needs to be designed to function effectively and flexibly in both physical spaces or remote spaces. What if we could have the best of both worlds in one model? That's our Hybrid Learning Environment! This course will prepare you for the opening of schools in fall, either in a physical classroom or online, creating a Hybrid Learning Environment that will easily address both venues.
Course 020
Syllabus
Explore the unique nature and nuances of both in-person and remote learning.
Map out plans and begin to design resources for the opening of school that promote the following:

Student engagement
Content delivery
Executive function
Social and emotional learning
Assessment

Gain strategies and structures around 7 Attributes of a Hybrid Learning Environment.
Explore strategies and structures for co-teaching and the use of teachers' aides.
Explore strategies and structures for addressing the needs of students with special needs, those who struggle academically, and English Language Learners.
Develop strategies and structures to support students and parents in remote learning based on 8 Elements of Home-Based Learning.
Build knowledge of the capabilities of the district's remote learning platform.
Create purposeful opportunities to incorporate both synchronous and asynchronous instruction in both the physical and virtual learning environment.
Access to MyQPortal is included for all participants while enrolled in the VLC. 25 credit hours.